Applied Cognitive Psychology
Studying human behavior and cognition in everyday settings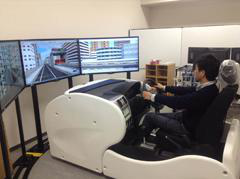 ---
Research Areas
■ An approach to practical issues of "ease of use" and "safety" using a cognitive psychological method
■ Examination of cognitive processes underlying behaviors in actual settings
In contemporary society, we make use of machines and systems that apply highly developed science and technologies. Human lives could be further improved by adapting these machines and systems to the unique characteristics of humanity. To this end, it is necessary to incorporate human scientific perspectives in addition to engineering perspectives in the development of such machines and systems. The research track in Applied Cognitive Psychology studies cognitive psychology with the aim of optimizing human and machine/system compatibility. Some of the specific research topics include the analysis of attention processing in automobile drivers, measurement and evaluation of work-related psychological stress, research on information confirmation techniques such as "finger pointing and calling," and the analysis of behavioral/psychological changes that accompany skill acquisition. The educational and research goal of this research track is to train researchers and practitioners who can function in all kinds of social contexts and possess not only cognitive-psychological perspectives to manage contemporary issues but also the ability to construct and conduct research to solve such problems.
Staff