Educational Psychology
Creating and using a place of learning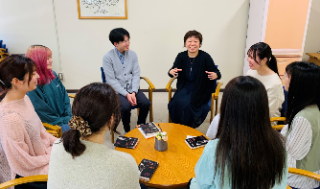 ---
Research Topics
■ Research on the psychology of delinquency and crimes and promotion of behavioral change
■ Research on the impact of victimization and recovery
The research track in Educational Psychology undertakes empirical research on individual emotional and social development in the society with failures or delinquency and the paths and methods for recovering from such failures. We are especially interested in the origin of delinquency/crimes/violence, the types of effects they have on individuals and society, and the ways in which we can address them. Main research problems concern educational-psychological promotion of behavioral changes appropriate for emotional and social development and the construction of environments and systems that can support children's development.
As means for recovering from delinquency/crimes/violence as a victim and an offender, we emphasize the acquisition of internal/external control through voicing and engaging with people through such methods as group work, victim offender dialogue, and, in particular, cognitive behavioral therapy and therapeutic community whose effectiveness in reducing recidivism has been empirically proven. Students will learn quantitative research methods (e.g., questionnaire survey) and qualitative research methods (e.g., interviews) and are encouraged to acquire practical skills by actually engaging with juvenile delinquents and crime offenders in the field. Main research sites include children and family support centers, children's self-reliant support facilities, prisons, and so on.
Staff