Empirical Sociology
Observing humans through data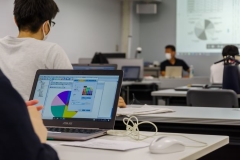 ---
Research Topics
■ Social research methods, sociology of religion, and quantitative analysis techniques for qualitative data (textual data)
Data collected in social research and their analysis form the foundation of theoretical development in sociology. This research area works closely with the social data science research track to employ quantitative analysis as the primary method, but we also place an emphasis on qualitative analysis. We consider a broad array of social perspectives concerning family, life, and work. By focusing on the perspective of sociology of religion in particular, we conduct research on the relationship between religion and people's perception/behavior and overseas missionary activities among new religious groups.
Recent years have seen the increasing adoption of new analytic techniques for social research data. Data collected from interviews and participant observation are being increasingly analyzed by computers. Researchers employ QDA (Qualitative Data Analysis) software programs such as MaxQDA, NVivo and Atlas/ti and text-mining program called KHCoder. These QDA and text-mining programs have become indispensable tools in qualitative data analysis.
In addition, by completing the primary courses of this research track, students can earn the Certificate of Social Researcher or the Certificate of Advanced Social Researcher certified by the Japanese Association of Social Research.
Staff