Contemporary Thought
Understanding the interaction between philosophy and practice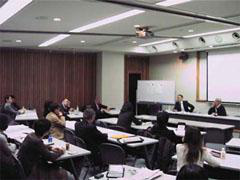 ---
"Contemporary Philosophy" will be renamed to "Philosophy and Qualitative Research" starting in Academic Year 2019.
Research Topics
■ Philosophical analysis based on field research at sites of medical, welfare, educational, and other practices
■ Theoretical research on trending contemporary philosophy with a focus on phenomenology
■ Epistemology of science with a focus on philosophy of life
The research field of contemporary philosophy engages in research domains where philosophical thoughts intersect grounded thoughts coming from the practices in medicine, welfare, education, art, and so on. Philological research using text alone is no longer sufficient to sustain contemporary philosophy.
By going beyond pure theorization detached from the field, this research field seeks to construct questions empirically from the actual sites of practice and transform these questions into philosophical thoughts. The seminar has many working/professional graduate students who are active practitioners in respective fields, conducting research activities in which practical knowledge intersects with philosophy.
Professor Murakami's past research includes the phenomenological study of autistic children in pediatrics, phenomenological and qualitative research on various home medical care and nursing practices in psychiatry, and qualitative research on abuse/poverty and childcare support practices in the Osaka Prefecture. In addition, members of this seminar re-read philosophical literature primarily in phenomenology in light of the qualitative research.
To learn about Professor Higaki (joint appointment), please visit the Kyosei Studies and Philosophical Anthropology on Kyosei website.
Staff