Behavioral Science for Safety
Conducting research to improve safety in the real world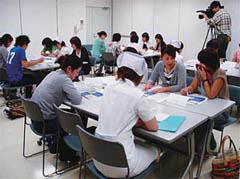 ---
Research Topics
■ Psychological and behavioral research to improve the safety in everyday and industrial/traffic situations
As a variety of risks exist in contemporary society such as accidents, disasters, and environmental and health issues, today we are tasked to control and establish effective techniques to manage these risks.
The research track in Behavioral Science for Safety conducts experiments and surveys to psychologically investigate human behavior in terms of various questions concerning the improvement of safety, comfort, and usability in everyday life and industrial/traffic situations and we circulate our research outcomes broadly throughout society.
Our research concerning safety in particular is characterized by a multidimensional perspective that attempts to address the sources of human error, under the assumption that humans inevitably make mistakes, on the individual psychological level and the interpersonal, group and organizational, life environment, and socio-cultural levels.
Some of the specific recent research topics include the mechanisms of human error and violation of rules and laws, driver risk detection and risk taking, prevention of accidents involving children, risk management in nursing, improving equipment usability, and the mechanisms of spatial cognition error. As this research track engages in a variety of issues in contemporary society, we always try to work closely with individuals and organizations in the field and emphasize developing the ability to accurately observe the field.
Staff